This four-ingredient no knead artisan bread loaf recipe is the weekend pick-me-up you need
Publish Date

Sunday, 18 September 2022, 9:24AM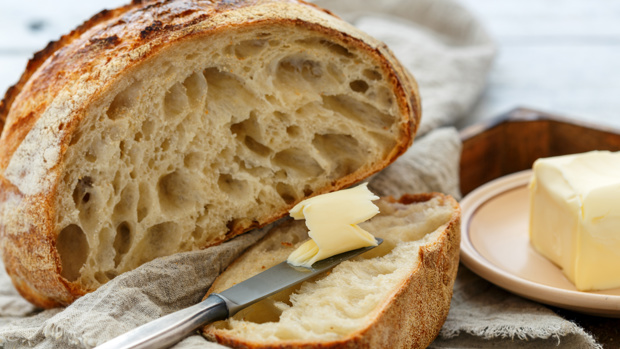 If your desire to get creative in the kitchen has been shattered, this four-ingredient artisan bread loaf recipe will change all that.
The clincher for this loaf to be great is allowing enough time.
Enough time and the end result will be chewy, yet light bread, with a great airy crumb and a hard crust that would rival many a sourdough loaf.
You can also get creative and add seeds like caraway, fennel, sunflower or pumpkin to the recipe.
Ingredients:
3 cups of bread flour
1 teaspoon fine sea salt
½ teaspoon active dry bread yeast
390ml of warm water (needs to be tepid, not hot)
Method:
Sift the flour into a large bowl, add yeast and salt then add the water slowly a little at a time, mixing with a wooden spoon until all of the flour is well combined - you may not need it all.
Cover with plastic and put aside for 12-24 hours (to give the yeast enough time to eat through the sugars in the flour).
When you don't want to wait any longer, shape the dough into a ball and place it on a sheet of well-oiled baking paper. Don't worry if it doesn't look "risen", the dough should have a nice elasticity and stretch easily, but not break.
Put a Dutch oven

or cooking pot with a tight-fitting lid

in the oven and heat for 30 minutes on 230C, while your dough rests.
Using a very sharp knife, slice the top of the dough with a simple cross.
Carefully place bread, using sides of the baking paper, into the heated Dutch oven, place the lid on and cook for 30 minutes.
Remove the lid and continue baking for another 10-12 minutes until brown on top and the slits you made have formed firm ridges.
Allow to cool completely on a wire rack before slicing.
Take your Radio, Podcasts and Music with you