This mind-boggling optical illusion is going viral for tricking your eyes
Publish Date

Tuesday, 30 July 2019, 2:57PM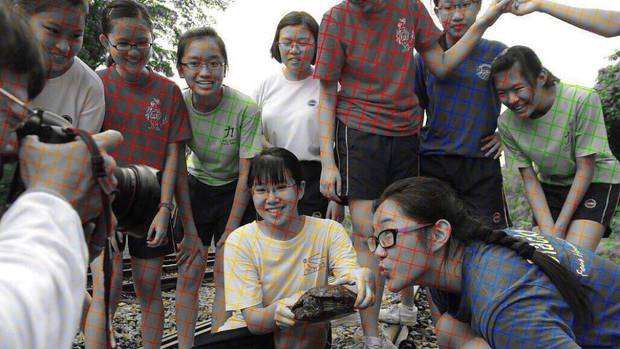 We all love a good optical illusion ... but this latest photo has left our minds truly boggled!
The snap - which has gone viral after being shared on social media - features a group of school girls smiling while getting photographed with a tortoise, and at first glance, it looks like a regular photo.
But all is not as it seems.
Can you spot what the illusion is?

Photo / Twitter
If you see the girls all clad in different coloured T-shirts, including blue, yellow, red and green, you're not alone.
But it turns out that the photo is actually black and white!
READ MORE:
• This brainteaser is baffling the internet! How long does it take you to spot the cocktail umbrella?
While you take another look, allow us to explain ...
The photo, which has been retweeted 12,500 times, is lined with colours in a grid format which allows your brain to "predict" the reality of the photo.
Seriously, how crazy is that?!
Essentially, your brain is filling in the blanks and making the whole image seem as though it is a full-colour photo, even though it is not.
Take your Radio, Podcasts and Music with you