This super easy Kiwi classic brandy snaps recipe is the perfect Christmas dessert
Publish Date

Tuesday, 31 October 2023, 7:00PM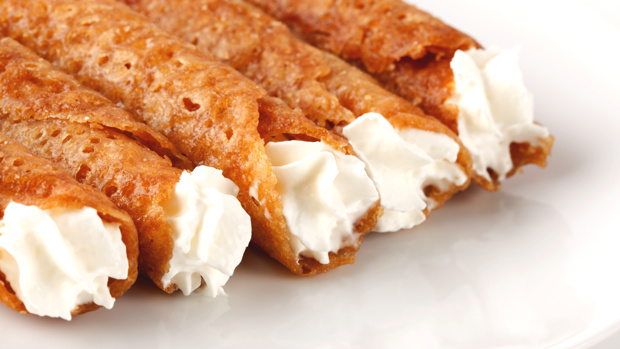 One of our favourite things about the holidays — besides the time with family and friends — is brandy snaps!
There's something so special about the sweet crunch of the gingery candy and the whipped cream oozing out the ends.
This Kiwi classic will make a stunning addition to your Christmas dessert.
For a modern twist, dip half the brandy snap in melted dark chocolate to accompany a chocolate mousse.
Prep time: 15 mins
Cooking time: 10 mins
Ingredients:
50g unsalted butter
50g caster sugar
50g golden syrup
50g plain flour
1tsp ground ginger
1/2tsp lemon juice
1tsp brandy
You will need:
2 medium baking sheets lined with baking parchment
Method:
Preheat the oven to 200 C.
Place the butter, caster sugar and golden syrup in a small saucepan set over a low heat. Stir until the mixture has melted and is smooth - be careful not to allow it to boil.
Remove the pan from the heat and allow it to cool slightly. When the mixture is tepid, add a pinch of salt with the flour, ground ginger, lemon juice and brandy. Stir well.
Place teaspoonfuls of the mixture on the baking sheet, allowing plenty of space for them to spread, ensure that you do not put more than 6 teaspoonfuls on each tray. Bake for 8 to 10 minutes.
Leave the brandy snaps to cool on the baking sheets for about 30 seconds, then roll them round the handle of a clean wooden spoon while they are still hot. Make sure you work quickly, as they are only malleable when warm.
If they become too cool and brittle, just pop the baking sheets back in the oven for a few seconds.
Take your Radio, Podcasts and Music with you