WATCH: This adorable dog loves dancing in puddles
Publish Date

Thursday, 16 July 2020, 3:17PM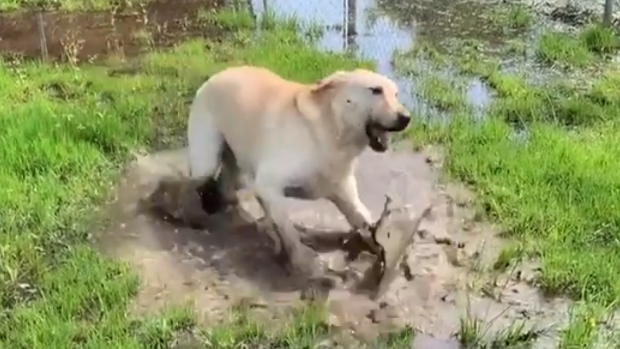 When Stevie first came to Jane Cornelius' home for a meet and greet to see if her family would be a good fit to adopt him, he discovered a puddle out in the backyard — and the rest was history. 
Seeing his joy for life, Stevie's new family fell in love with him immediately, and they admire his positive attitude despite how he often has to work a bit harder at things. 
Stevie has cerebellar hypoplasia, and a lot of movements and actions are more challenging for him than a typical dog. He doesn't let that stand in his way, though, especially when something brings him so much joy. 
For some reason, puddles bring Stevie more joy than almost anything else in the world. He's been obsessed with them ever since he discovered his first one in the backyard, and now whenever he sees one, he can't help but dance for joy. 
Stevie's excited little dance whenever he sees a puddle is so adorable, and watching him splash around without a care in the world brings so much happiness to everyone who sees him.
Stevie definitely has some challenges in life, but he's never let any of them get in the way of doing the things he loves, and his family wouldn't have him any other way. 
His Instagram account now has over 70,000 followers as his owners share the joys of Stevie's life! 
"Stevie brings so much joy to us, just by being Stevie," Cornelius said.
Take your Radio, Podcasts and Music with you