Wedding guest slammed for attempting to upstage the bride with "inappropriate" dress
Publish Date

Thursday, 6 June 2019, 4:30PM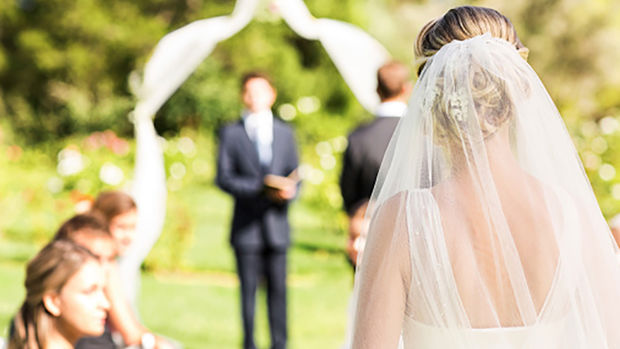 When attending a wedding there has always been one crucial rule – never, ever upstage the bride!
But, that's exactly what this wedding guest is being accused of potentially doing.
Taking to the online forum, Wedding Bee, a concerned woman revealed she was "unsure" over her sister's choice of outfit for their brother's upcoming wedding.
The sister is planning on wearing a floor-length, blue silk gown worth $AU299 ($NZD314).
As well as having a "look at me" train, the gown also had ample cleavage, a low-cut back and a silhouette shape.
"My sister wants to wear this dress to our brother's wedding," the woman wrote, explaining the ceremony would be outside in warm temperatures followed by a reception inside a ballroom.
"She typically dresses like this, low cut outfits and is thin like the model, not huge boobs where it will be a distraction," she continued. "She asked me if I thought it was okay, I'm not sure …. What do you think?
"I personally am not sure about having a train at someone else's wedding?"
While she clearly only took issue with the train — her post instantly sparked a heated debate over whether or not the gown was suitable for a wedding.
"It looks like lingerie and I really don't think it's appropriate," one person commented.
"That is too much skin. It also looks cheap to me," another brutally remarked.
A third said: "The cleavage and back are whatever, but a train? That's barely a half step under wearing a veil. It's pretty much a sign saying 'Look at me, not the bride'. She can be sexy, confident, even risque if that's her style, but a train is none of the above."
Another agreed, saying: "I might be old fashioned, but I don't think it's respectful to wear something overtly sexy to a WEDDING. Your sister can have the attention every other day of her life — now is not the time for everyone to be looking at her."
But not everyone agreed it was appropriate.
"I actually really like it.. the colour, the design, everything" one said.
"It's gorgeous," someone else declared.
What do you think?