Mariah Carey comes to Fergie's defense 'the worst ever' national anthem performance
Publish Date

Tuesday, 20 February 2018, 10:58AM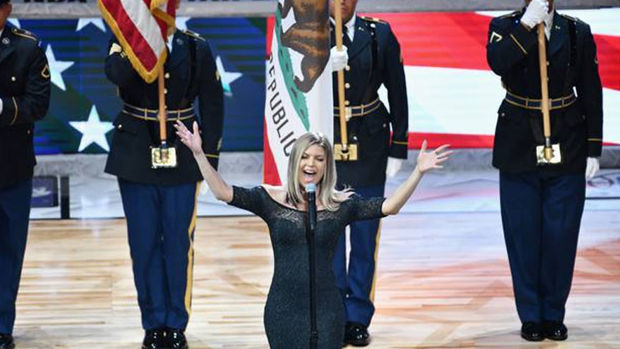 Mariah Carey has urged Fergie to ignore the criticism she has received for her rendition of the US national anthem at the NBA All-Star game on Sunday (18.02.18).
The 42-year-old singer performed the 'Star-Spangled Banner' at Los Angeles' Staples Center over the weekend ahead of the annual exhibition basketball match, and was slammed for the rendition by celebrities and viewers alike.
But fellow singer Mariah - who had her fair share of criticism after her New Year's Eve performance in 2016 was slammed when it was plagued by technical difficulties - has offered words of wisdom to the former Black Eyed Peas singer.
When asked by TMZ if she had any advice for Fergie, 47-year-old Mariah simply said: "Darling, no one needs to listen to that [criticism]!"
Mariah's comments come after several fans branded the performance as "the worst ever", and many celebrities took to social media to express their confusion at the whole pre-match display.
Roseanne Barr - who performed a crotch-grabbing rendition of the tune in 1990 - wrote on Twitter: "Who saw Fergie's national anthem performance at the NBA All Star Game? I think mine was better lowkey (sic)"
As well as the national anthem, the pre-match entertainment at the All-Star game featured a 15-minute opener from Kevin Hart, and the whole thing left Khloe Kardashian "confused".
She tweeted: "This All Star opening is confusing me. WTF is going on? Anyone? (sic)"
But not everyone slated Fergie's rendition, with legendary basketball player Shaquille O'Neal praising her for a "different" and "sexy" version of the song.
He tweeted: "Fergie, I love you. It was different, it was sexy. (sic)"
Bang Showbiz