This is Lucy, a lamb from Tauranga who thinks she's a dog
Publish Date

Thursday, 23 August 2018, 3:38PM
Lucy the lamb doesn't know she's a lamb.
The 4-week-old lamb lives in Tauranga with six dogs, a cat and an older sheep named Coco. But of all those animals, owner Katrina Thompson says Lucy is a truly special one.
Born last month in bad weather, Lucy suffered joint-ill, an infection in the joints that meant that she couldn't walk or even lift her head.
"After three days in the house, she managed to stand for the first time and has improved slowly ever since," proud owner Katrina Thompson told the Herald.
"She needed three weeks of antibiotics to clear the infection which has left her with arthritis in a front knee and her back hip. So she still sleeps in the house with us and is doing well with toilet training but wears a nappy just in case of an accident," Thompson explained.
"She has no idea she is a sheep at all. She eats and sleeps with the dogs and comes out for walks now that she's a bit older."
Every night, Lucy cosies up on the sofa with the family's six dogs, who she sleeps with.
The more time goes by, the more Lucy the lamb learns from her canine companions and the family she lives with.
READ MORE: 
Lucy actually belongs to Mel, Thompson's 10-year-old son. He's been busy over the last month teaching Lucy all manner of tricks.
She is nearly fully toilet trained (the nappy stays on just to prevent accidents) and obeys commands such as "come", "stand" and "wait".
Mel has ADHD and, according to his mum, Lucy has been helping him cope.
"It's important for him as he has ADHD, so it's good to learn patience with training."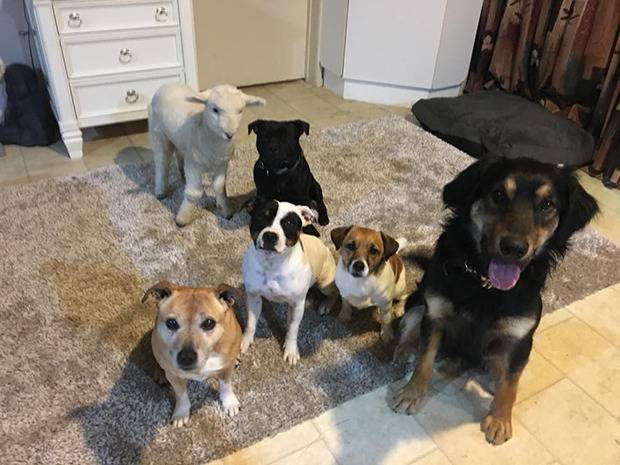 Thompson used to run an animal rescue centre but has had to step back due to family health issues.
Thompson said Lucy has helped the family as much as they've helped her.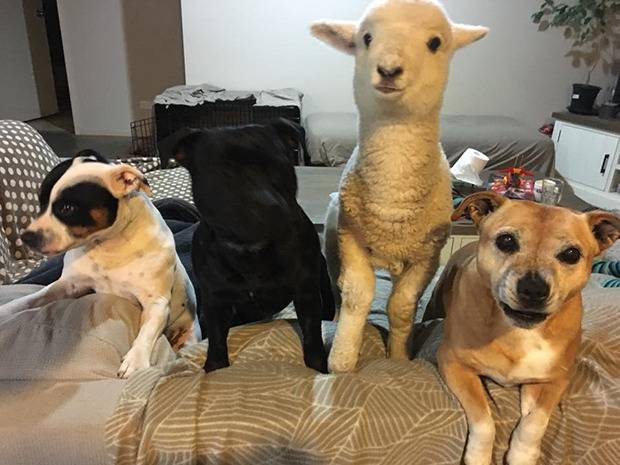 "She came along a few weeks after my son and I lost our two dogs to cancer," she said.
"She's brought us so much happiness."
Thompson documents Lucy's progress on her Facebook page, "The Adventures of my Staffies and Friends/Fosters". You can follow Lucy and the dogs here.
This article was first published on nzherald.co.nz and is reproduced here with permission.