Watch a young Meghan Markle appear in a UK chip ad
Publish Date

Wednesday, 4 April 2018, 3:52PM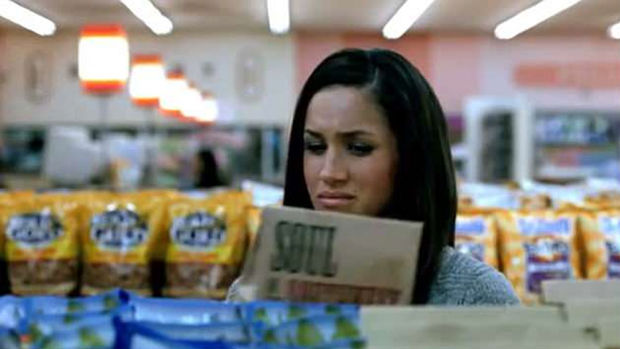 Newly-resurfaced video of future Meghan Markle reveals the former actress starring in a Tostitos commercial — years before she became the breakout star of the hit series Suits, and nearly a decade before her engagement to Prince Harry.
The ad, which appears to date back to 2009, shows Meghan, now 36, in the aisles of a supermarket, wondering which bag of chips to buy for an upcoming party.
She frowns at the prospect of purchasing chips made with 13 different ingredients, before opting for the three-ingredient Tostitos.
'Thirteen ingredients? That's more people than I invited to the party,' a voice narrates as Meghan picks up another brand's chips. 'Unless Denise brings Gary. Ugh, Gary and those short shorts.'
The camera, which initially showed Meghan in black pants, a blue top, a grey jacket, and a white purse, zooms in on her face before as Meghan laments Gary's potential appearance at the party.
It then turns to the various bags of chips as Meghan grabs a bag of Tostitos Scoops.
'Light corn, vegetable oil, and salt,' the voice continues. 'Yeah. Three ingredients is good.'
Meghan then walks away as a screen states: 'Tostitos. Surprisingly simple.' 
The ad appears to have been shot about two years before Meghan started starring on Suits, rising to fame as Rachel Zane in the legal drama.
If it does date back to 2009, Meghan, who celebrated her 28th birthday on August 4 of that year, is in her late twenties in the footage.
That also means the ad was shot eight years before Meghan became engaged to Prince Harry and started to transition from life as an actress to that of a royal. 
The voice in the ad sounds markedly different from Meghan's, suggesting that someone else than the actress was hired to provide the voice-over.
This implies that Meghan was paid less for the ad than if she had performed the in-person acting and had narrated the spot too.
Daily Mail