Watch the hilarious moment a BBC presenter falls into pool mid-interview
Publish Date

Thursday, 12 April 2018, 7:34AM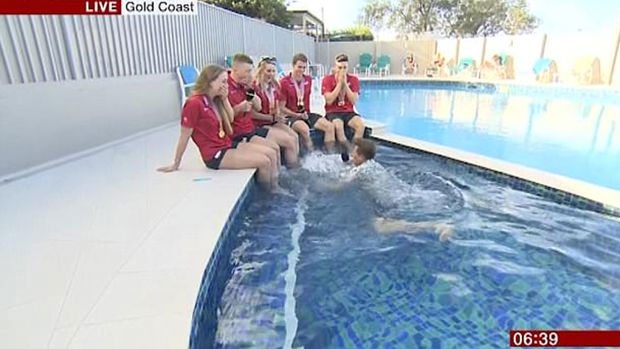 This is the hilarious moment a BBC presenter falls into a swimming pool while interviewing England's Commonwealth Games medalists.
Shortly after announcing he 'had to be careful' when interviewing the swimmers, whose competition finished yesterday in Australia's Gold Coast, Mike Bushell took a dip of his own after missing a step in the pool.
The sports broadcaster's blunder on live TV left him completely soaked while the swimmers could not contain their laughter at his misfortune.
Before stepping into the pool, Bushell said: 'I'm going to have to jump into the water.
'I'm going to have to be careful because I've got a sound pack on.'
Despite his best efforts, Bushell then slipped, falling into the pool and damaging some of his equipment. 
England's gold medalists Adam Peaty, Sarah Vasey and Siobhan Marie O'Connor burst into fits of laughter while Ben Proud and James Guy could not contain their amusement. 
Daily Mail