Watch the terrifying moment a Kiwi woman gets injured as cruise ship crashes in Venice
Publish Date

Tuesday, 4 June 2019, 12:14PM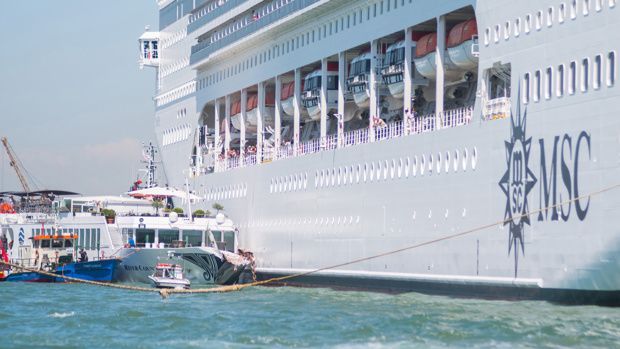 A Kiwi woman caught up in the Venice cruise ship crash is recovering in hospital with a broken shoulder.
Joy Milmine and her husband Colin were on a trip around Italy when they were involved in the dramatic incident, in which a towering, out-of-control cruise ship rammed into a dock and tourist riverboat on a busy Venice canal.
Milmine was one of five people injured - along with an American and two Australians aged between 67 and 72 - when the MSC Opera cruise ship rammed into the River Countess on the Giudecca Canal.
Milmine is currently in hospital awaiting further x-rays to determine the extent of her injury and whether she needs surgery.
A spokeswoman for the Ministry of Foreign Affairs and Trade (Mfat) said: "The New Zealand Embassy in Rome is providing consular assistance to a New Zealander involved in the cruise ship collision in Venice. For privacy reasons, no further information will be provided."
Videos of the crash show the cruise ship, apparently unable to halt its momentum, blaring its horn as it ploughs into the much smaller riverboat and the dock as dozens of people run away in panic.
The cruise ship's owner, MSC Cruises, said the MSC Opera was about to dock at a passenger terminal in Venice when it had a mechanical problem.
Two towboats guiding the ship tried to stop it but they were unable to prevent it from ramming into the riverboat.
"The two towboats tried to stop the giant and then a tow cable broke, cut by the collision with the riverboat," Davide Calderan, president of a towboat association in Venice, told the Italian news agency ANSA.
Calderan said the cruise ship's engine was locked when the captain called for help.
Following the accident, calls for banning cruise ships in Venice, long a source of contention in the over-extended tourist city, were renewed.