Watch Brian May perform an incredible guitar solo while on the set of Bohemian Rhapsody
Publish Date

Tuesday, 22 January 2019, 3:42PM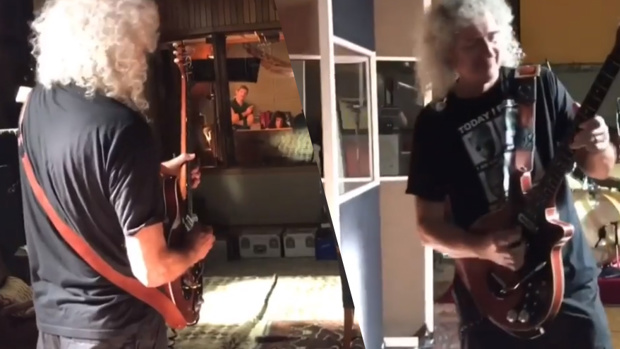 It is quite well known that Brian May was with the cast of Bohemian Rhapsody while most of the movie was being shot, but this is one of the only clips that we have to show for it.
In the clip that was originally posted to Brian Singer's (a producer) Instagram account, Brian May and Gwilym Lee can be seen standing in the makeshift studio from the movie before May absolutely shreds the solo.
Take a look at it here:
Brian gave some context behind the performance in the caption of the post: "This clip is stolen from @bryanjaysinger, who was evidently filming it on his iPhone. When the BR team were shooting this scene, I happened to be around, so Gwil invited me to have a go ! How did I do, folks ? Well, obviously not quite as good as Gwil ! He's a trained artist !  We had too much fun ! I'd like to see the rest of what happened, captured by the film cameras which were still rolling ... some day. In case you're wondering why this solo doesn't sound like the 'out-take' solo in the film, I only had the idea to make that happen later, when we were polishing the soundtrack. In any case, we wouldn't have had the facilities to do that on the day of the shoot. In the film, you hear a variant take on the Bo Rhap solo which just MIGHT have been the one previous to the final one which made it onto the record! Might ! That's if it hadn't been a genius first-take keeper. Ha ha ! I honestly don't remember!"
WATCH MORE: 
He hit that perfectly - it's almost like he was actually in the band!